About Us
Philosophy

Since 2009, Michael Alberini's Restaurant and Wine Shop has brought to Youngstown a "Contemporary Renaissance," by offering Old World flavors and modern cooking techniques in a big city setting.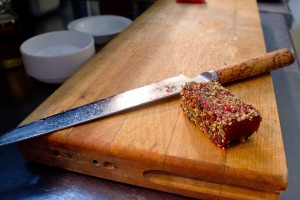 Inspired by the landmarks of Chicago, San Francisco and New York's finest restaurants, we give diners a culinary escape from the norm by creating an upscale yet casual atmosphere familiar to major metropolitan areas. While staying true to our Italian heritage, we break down cultural boundaries and embrace diversity with Latin American, Asian and some French influences.
At Michael Alberini's, we promote a Global-Local philosophy, boasting an exquisite selection of local produce and meats and incorporating them in our international dishes. All dishes are prepared fresh to order.
Above all, Michael Alberini's reinforces what dinner is all about. Whether you experience our renowned bone-in veal chops, the finest selections of stockyard meats, flown-in fresh fish, or one of Executive Chef's featured recipes, you can savor our cuisine while enjoying conversation as if you were sitting at your own table at home.
Farm-to-Table

Not too long ago, it was common for meals at dinnertime to include ingredients from the family's own farm, garden or fruit trees. Michael Alberini's calls back to that time by promoting a farm-to-table philosophy. We put that golden standard of freshness into practice by visiting local markets and farms and hand selecting the highest quality produce and meats for our creations.
The local products used meet the highest of standards set by Michael and Chef. Our livestock is free range and steroid/antibiotic free. Our produce is the freshest available, hand picked and not chemically treated.